I remember my first experience of being observed in the classroom. I was 20 and had my first practicum at Trinity Grammar School. I was teaching Great Expectations to a class of 32 Year 8 boys and I was being observed by the great Roderick West who by that stage had been Headmaster of Trinity for over a decade. Rod was a legend in educational circles. He had taught Prince Charles at Timbertop, and at Trinity he gave breathtaking orations in Chapel to the boys, resplendent in his academic gown and word-perfect in his references from Shakespeare, to Wordsworth, Coleridge, Homer and The Bible. Rod was an extraordinary teacher of the Classics. He taught English, Latin and History. I was fortunate to be taken under his wing as a teacher new to the profession. 
Back to the classroom, kids are kids, and in my classroom, there was a boy talking in the front row. I looked at the boy, paused, said "shhhh" and continued. The boy stopped talking and got on with his learning. Meanwhile, out of my peripheral vision, I saw the Headmaster at the back of the room, scribbling notes.
Once the boys left the room, the Headmaster said, "Miss Emery. Never say 'shhh' in the classroom again! Only ineffective teachers resort to it and I don't want that for you."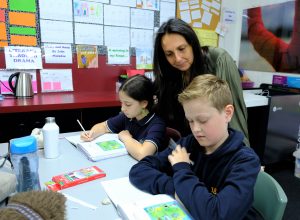 The Headmaster's words stung and 35 years on I still remember them. I also never shooshed a student again. 
Today classroom observation projects are underway across Australia, as the profession continues to consider how best to build the positive impact that teachers have on the lives of their students.
The findings of one study called First Day, First Class have been published this year by Queensland University of Technology Faculty of Education Adjunct Professor Erica McWilliam and Brisbane Grammar School Special Advisor Teaching Development Dr Peter Taylor.
On the first day of the 2017 school year, McWilliam and Taylor observed and filmed 17 teachers at Brisbane Grammar School. They wanted to understand what makes an effective first lesson. The research project is tracking how highly effective teachers initiate classroom routines from the first class of the year and then reinforce and sustain those routines that enable students to learn in a safe and challenging classroom environment.
​
McWilliam and Taylor conducted a global assessment of the overall quality of each lesson they observed. They found that the most exceptional lessons were structure rich, challenge rich, information-rich, respect rich, collaboration rich and co-ownership rich. Exceptionality, they concluded, is marked by the depth, authenticity and synergy of a teacher's deliberate orchestration of these six components within their first lessons.
Here at IGS we also have a classroom observation project in progress. I want our teachers to have the experience of feedback about their teaching to enhance teacher effectiveness and improve the learning experiences of our students. I also want to mine for treasure, knowing that IGS has more than its fair share of exceptional teachers.
In Term 1 we launched a project with classroom observation at the centre to understand, capture, research, enhance and celebrate teacher effectiveness at IGS. The project has been led by our newly appointed Deputy Principal Academic Operations Mrs Lisa Kelliher. Lisa came to IGS at the beginning of 2019 as Director of Teacher Effectiveness with a unique brief to watch each and every teacher teach over the year, to provide them with feedback, develop a picture of the classroom at IGS, share her insights and propose, and implement recommendations to build upon the quality of what she sees. 
Lisa is a highly experienced teacher and educational leader who has worked at a number of schools in Sydney and abroad. She has also worked with schools and teachers out in the field across NSW to improve teaching practice during her time as a senior officer at the NSW Educational Standards Authority. She has the ideal background to lead this project. She's also a great teacher.
 Lisa has now observed over 100 IGS teachers teach. She meets with teachers first to understand their careers, their professional aspirations and the rewards and challenges of their working lives here at school. A powerful part of her method is to provide written feedback based on what she sees and then she asks teachers to respond with their own reflections about the feedback. Lisa showcases the great work that she sees by asking teachers to present what they do through targeted professional development sessions. She is also providing ongoing intensive support to teachers who are struggling with the demands of their roles.
Lisa will share her findings from the classroom this term. I know that she has been inspired by our teachers, by their skill, their openness and their collaborative spirit. She has noticed a particular IGS teaching culture which she has described to me in the following way:
"Relational in their approach and adaptive in their understanding of the needs of the students in their care, IGS teachers passionately model their own love of learning to our students. IGS fosters creativity and individuality, not only in its students but also through its teachers. As a consequence, students are challenged, affirmed, stretched and respected for their capacity as learners and as people in the world. The vibrancy of the learning environment established by our teachers serves to guide our students to revel in the why and the how, rather than remain fixated on the what."
In its broadest context, the IGS teacher observation project is all about building the teaching profession at IGS and beyond. The project has garnered attention locally and nationally this year, with school leaders visiting IGS to learn more about the project, to see it in action and to explore the possibility of transferring it into their own contexts. 
As we celebrate World Teachers' Day next Friday, I want to thank Lisa and pay tribute to our dedicated, creative and talented colleagues; those who teach and those who support the work of teachers. They are a vibrant force and they are making a positive and profound difference in the lives of our students every day.
Next week during tutor group we will be encouraging our High School students to write a note to a teacher who has made a difference in their lives. Our Primary School students will spend a few minutes during the week contemplating and talking about the special role that their teachers play in their lives. It seems like another affirming way to tap into student voice in the context of our School's values of connectedness and authenticity.
I look forward to continuing our quest this term to honour and build upon the work of our fine teachers. Please email me at Principal@igssyd.nsw.edu.au if you have any insights you would like to share with me. 
Have a wonderful term!

Shauna Colnan
Principal

To read more, follow this link to Erica McWilliam, First Day, First Class lessons: What makes them exceptional? Erica McWilliam, 24 February 2019