Grace said the ISS program was an incredible week of lectures, tours and workshops.
"The highlight for me was definitely the fascinating lecture series which covered a vast range of topics," Grace said.
"We first heard from Professor Anita Ho Baillie who discussed the next generation of solar cells made from a material called perovskite. The material has proven highly flexible, durable and relatively easy to produce. We later got to virtually tour Professor Anita Ho Baillie's laboratory at the University of Sydney and we watched as these perovskite solar cells were constructed and tested," Grace said.
"Professor Geraint Lewis spoke about the finely tuned conditions of our universe. These conditions fall in a narrow range that allow for complexity, including life, to exist, raising questions about how these conditions came about. In this lecture we considered whether we could be living in a multiverse in which each "universe" has a different set of conditions allowing some "universes" to flourish in complexity, while most remain barren.
"We heard from Professor Adrienne Fairhall about the neural code and how the activity of our neurons can be modelled mathematically. Emily Judd gave us insight into her work at NASA exploring the possibility of sending humans to Mars as early as the 2030s. She explained the numerous challenges facing a human Mars mission and the new and emerging technologies that are being considered to meet the Mars astronauts' needs."
During the final lectures, Grace heard from popular scientist Dr Karl who spoke about whales, nuclear weapons and climate change.
She also enjoyed hearing from Dr Micah Goldwater who discussed the Psychology of Misinformation and what influences the information that we choose to accept.
"My mind is still buzzing with ideas and questions from all the inspiring work of our lecturers and the researchers at the Australian Centre for Field Robotics and the Kwan Lab who we also met," Grace said.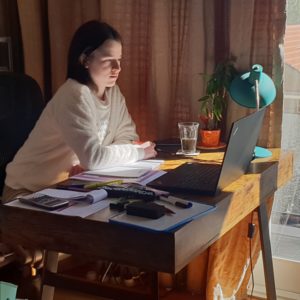 "I am so grateful for the work of all the Professor Harry Messel International Science School organisers and the University of Sydney staff who coordinated the experiments which we were able to successfully complete at home. Even though the program was virtual there was a great sense of connection and community amongst all participants."