Primary parents and caregivers are invited to venture back to the classroom to receive insights through the 1-2-3 Magic and Emotion Coaching Program, presented by IGS Director of Counselling Services Joseph Degeling.
The program approach provides families with a delicate balance of strategies to use to support positive behaviour, emotional regulation and, when necessary, behaviour modification with their children.
Session dates:
Wednesday 14 August from 5.30 to 7.30pm
Wednesday 21 August from 5.30 to 7.30pm
Wednesday 28 August from 5.30 to 7.30pm
Please note that parents wishing to attend this course are asked to be available to attend all three dates in order to be eligible to participate.
The program follows a presentation of 1-2-3 Magic for Early Learning parents, as well as the fourth annual delivery of the Youth Mental Health First Aid (YMHFA) course for a group of committed and eager IGS parents, both held last term.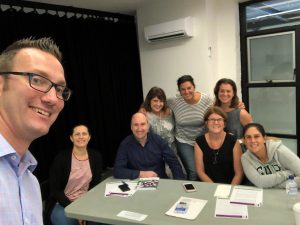 This term, IGS is running the Youth Mental Health First Aid program as part of the School's teacher professional development plan. It's a highly acclaimed education program that aims to increase community awareness of mental health issues among young people. It also gives people who work or live with young people the skills to help them in the early stages of a developing mental illness or mental health crisis.