Early Learning teacher Robeka said the children, who have been fascinated with space, had also shown a deep interest in aviation. To extend their investigations, she organised two Qantas pilots to join in on their project-based learning.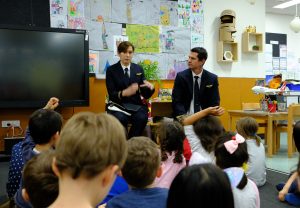 "The children were beaming with excitement as the two pilots stepped into the classroom for the very first time. With our eyes instantly drawn to their uniform, the children were fascinated to discover more about their role as a pilot," she said.
"Getting straight into the discussion, Captain Tristan and Captain Gabrielle spoke passionately about what they love most about being a pilot. The two pilots shared their experiences of flying different types of planes, as well as naming all the countries they have flown to.
"The core part of the experience was having the pilots listen to the questions and queries children had about aviation. The two Captains were astonished with the type of questions that arose from the discussion. They were not only fascinated with the questions that came about from the children's curiosity, but were impressed with the vocabulary the children used when asking their questions."

The students asked many questions about how the planes fly, what the engine does, the shape of the wings of the plane and more.
Other questions included:
How do you lock the door and start the engine?
Why are the wings and the engine so important?
How long would it take to get from Sydney all the way to England?
Why does the plane have to go above the clouds?
Why is there a bend on the wing?
To consolidate the children's understanding and knowledge, the pilots re-enacted two crucial parts of flying – ascent and descent.
Students Harri and Alyssa even had the chance to act as their co-pilots.
Harri said "Welcome to London" as they landed their plane safely.
Well done to our Early Learning students for asking such big questions, and thank you to Qantas for joining us.