The free, hour-long workshops will be held on Tuesday 26 May at 5pm for junior musicians and at 6.15pm for senior students.
Parents and caregivers of all IGS students from Years 5 to 12 are invited to register their child to take part. Please register here by noon on Monday 25 May to receive the relevant link.
We congratulate IGS Head of Music Performance Sarah Butler, newly elected president of the Australian Band and Orchestra Directors Association.
"John Morrison is also a committee member," Sarah said. "He is our guest clinician on behalf of IGS Music, to instil the love of jazz in our students.
"John comes from a family of famous Jazz musicians, including his brother James, a famous jazz trumpeter."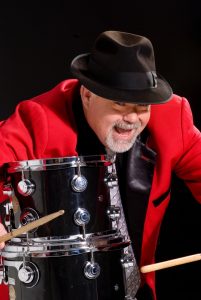 "We're excited about this support and boost for the young IGS musicians."
John Morrison ("The Cat in the Hat") has delighted audiences for more than three decades with his humour and dedication to sounds that swing!
Voted Australia's best Big Band drummer, his big band "Swing City" was selected to open the Sydney 2000 Olympics. Throughout his career John Morrison and his many groups have headlined every major event and festival in Australia.
At age eight, John began playing cornet in the school brass band and by the age of 10 had built his first drum set from pots and pans. In these early few years he played many different instruments and styles but jazz drumming was to be his calling.
John's driving swing feel has been heard with many internationally well known artists.
John is also a gifted educator, producer, and patron of many outstanding youth bands and orchestras. He has mentored
hundreds of young musicians into successful playing careers.
For over 25 years he has been musical director for the famous Sydney Jazz Camp.