From the complex clapping movements to the taut, colourful trousers which resounded like deep drums when slapped, the techniques were new, fresh challenging and engaging.
Year 5 learnt that Indonesia has more than 17,000 islands, whereas Australia has 6,800 islands.
"It's wonderful seeing the students immersed in such a rich and diverse musical tradition," said Acting Head of Primary Music Nik Glass.
"The students loved moving and singing traditional Indonesian songs and the dance moves added a layer of complexity which really challenged and engaged them.
"Year 5 will continue to hone their body percussion movements during Music lessons in the lead up to a massed performance during International Day."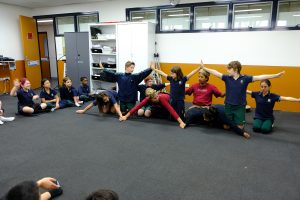 They also learnt to count to five in Indonesian, and how to carry out the increasingly complex collaborative clapping dances.
The group will return for International Day later this year.