IGS Director of Dramatic Arts Rita said the students displayed excellent, enthusiastic and smart teamwork.
"Jack Scott-Hickie is to be congratulated for winning the Elliot Miller Most Valued Improviser Award at the Junior Competition," Rita said.
"This is the second time IGS has won this inaugural award in 2019.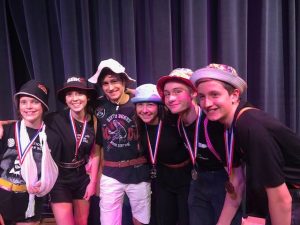 "Madiba Doyle-Lambert took home the same award at the Intermediate level. The award is given to the student who best embodies the spirit of team improvisation."
IGS wishes to congratulate the entire team on their outstanding effort.
Congratulations Chiara, Delfina, Daniel, Harriet, and Jack. A big thank you to Lukian Adams (2018) and Queenie Colquhoun (2016), our excellent Drama Alumni and Theatresports coaches.