The Early Learning Centre (ELC) activity reflects an initiative begun in the UK, where families have been placing teddy bears and rainbows in their windows to reassure children all will be well, despite COVID-19.
ELC children and staff created their large rainbow banner at the end of Term 1.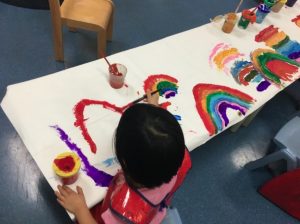 "It is hanging outside the School on Kelly Street to enable children from the local community to connect with us as they walk, cycle, scoot or jog around their neighborhood and go on a treasure hunt for rainbows!" said IGS Head of School Early Learning Sarah Herbert. 
As social distancing continues, children are being encouraged to create and display rainbows in their homes as well.
"Social distancing is the best tool we have to flatten the curve and slow the spread of coronavirus, but it can be especially tough for kids as they transition from seeing their friends each day at school and play dates to suddenly feeling locked up inside the house.
"To help entertain and engage little ones during their time outside, neighbourhoods around the world have been hosting Bear Hunts, and making rainbows.
"They can be a great distraction for children and parents alike, and it's a way to foster community closeness despite physical distance."
A number of IGS children have been drawing rainbows and selecting teddy bears to display in their windows at home, too.