Former Chair of English at the University of Sydney Professor Anthony Miller pricked up his ears when he heard that International Grammar School (IGS) has a "Bibliothèque" and teaches languages from Preschool to Year 12.
Professor Miller was seeking a new home for his collection of about 150 works, the "greatest poetry and prose in the English language from the late 1300s to the present day" as he and his wife, Maggie, downsized.
The inner city location of IGS also appealed to him, as it reminded him of his own city-based former school, Perth Modern School, in Western Australia.
"I felt a synergy," he said.
IGS Principal Shauna Colnan has welcomed the precious collection.
"We were thrilled to receive this special and timely gift," said IGS Principal Shauna Colnan.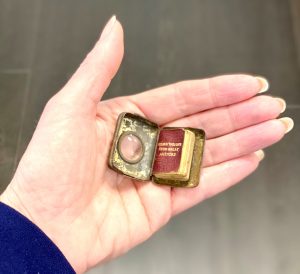 "It will take pride of place in the Max Myer Reading Room, along with another extraordinary collection of books soon to be received, thanks to another generous donor."
How did the collection arise? 
It was the poetry of John Keats Professor Miller studied in high school which led to Professor Miller's career path as an academic devoted to the study, research and sharing of literature.
"It bowled me over," he said. "I went into a Perth bookshop and found a little hardback volume of Keats from Everyman's Library."
The 'power, beauty and fascination' of language
What appeals to him about literature?
"It's the imaginative use of language that's at the base of it; the power, the beauty, the fascination that language can exert, especially when patterned in familiar ways and also when turned towards metaphor and drawing together of unexpected qualities," he said.
"It jolts us.
"Literature also tells us so much about our history.
"Literature has evolved through time and taken on different forms. Think of Shakespeare's plays, the personal epics of Wordsworth, and TS Eliot's poetry of 20th Century urban life.
"It draws you into these contexts. It expands your understanding of our culture."
The earliest book in the collection Professor Miller has donated to the new IGS Bibliothèque is Chaucer's Canterbury Tales.
"The first great English poet died in 1400 after writing them during the late 1300s. It's a rich collection of stories in verse."
Some favourite books
Professor Miller's favourite book in the collection is by Edward Gibbon, The History of the Decline and Fall of the Roman Empire.
"His English prose is majestic, polished, often witty. It unfolds in magnificent long sentences. It's very pleasurable to read."
Gibbon's works cover the history of Europe and much of the Middle East from 100 AD to the fall of Constantinople in 1453.
"Gibbon's language and work has huge scope and tremendous power. He mastered primary sources on Rome, the rise of Islam, medieval monarchies of Europe and North Africa. He tracks through history. I am in awe of the scope of his achievement."
Professor Miller's own career involves teaching and research. He completed his doctoral thesis at Harvard and has presented at international conferences in Australia, Canada, the US and the UK.
"The stimulation of being together with creative people who worked in the same area, and sharing my latest discoveries with them, was a great satisfaction."
Another career highlight was publishing his own work on one of the connections between English literature and classical Roman literature. The reviews and attention it has achieved show that it made an impact.
He enjoyed teaching, including lecturing in great halls with hundreds of students watching and listening.
"You have to project and act out to make your voice and your presence felt , with gestures big enough to keep attention," he said.
And he enjoyed working with small tutorials of 10 to 15 honours students, learning how to draw them out, and he admired their fresh interpretations of texts.
"It's wonderful," he said.
Supervising doctoral research students was also a satisfying experience, watching them share their understanding and express their arguments.
"Some of my students have gone on to be professors, one at Princeton."
While Professor Miller has deeply enjoyed the collection of works he is donating to IGS, he is continuing to expand his own mind by reading literature in French, Latin and Greek, including Homer, Sophocles, Horace, French tragedies and more recent novelists.
Literature stretches our minds
Professor Miller said many of the texts he is donating are "quite advanced" and would not normally be expected in a school collection.
"People are accustomed to listening to music and looking at art from all centuries and across cultural boundaries, but they are much more reluctant to do the same with writing.
"It takes an effort. There is a slight barrier, but I have always wanted to break that barrier down.
"Novels and poetry can sometimes contain hidden secrets you have to unwrap, yet language is also capable of speaking quite directly if you give it a chance.
"I'd really challenge everyone to let it speak to them."
Books 'make lives richer'
Professor Miller is particularly pleased to donate a physical collection of books, rather than a digital one.
As objects, the books range in shape, size and feel.
"I had pleasure holding books from an early age, and books as objects often have interesting histories. One or two of the books in this collection have the bookplate of a library in the north of England, established in 1850."
The IGS community is immensely grateful for this generous gift, which will enrich the lives of our community for decades to come.