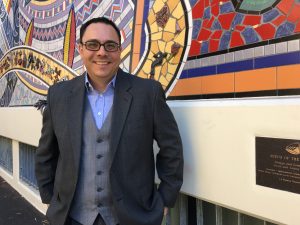 "David has been with us for 12 years and has made a significant contribution to our School," said Principal Shauna Colnan.
"He has worked tirelessly for IGS, especially in the Human Resources portfolio. We wish him well in his challenging and exciting new position, and thank him for all he has given to our School."
David said he was proud to have been able to recruit such high quality staff to join IGS and to put into place diverse programs to continue to develop the professionalism and effectiveness of all staff.
"While IGS has flourished in recent years, the essence of the School remains the same, with its warm and welcoming community committed to diversity, personal achievement, authenticity, connectedness and vibrancy," David said.
"I have enjoyed teaching Human Society and its Environment (HSIE), introducing Legal Studies last year, and working closely with colleagues and our community. I will take away with me countless fond memories of my students and the wider IGS community. While it is difficult to leave this special place, life is a learning opportunity and cannot be ignored."
Recruitment is now underway for the new role of Director of Human Resources at IGS.