Described as a Federation warehouse, the Wright Building was constructed in brick in about 1914, and was originally a five room mill, according to the URBIS heritage report prepared for the City of Sydney Council.
Before this, it was considered to be within the "Mountain Street Conservation Area which formed part of the lands set aside in 1829 by Governor Darling for the Clergy & Schools Land Corporation," the report notes.
"By the mid-19th century, the area was known as Athlone Place, and was predominantly characterised by small scale housing adjoining slaughteryards and the tidal swamps of Blackwattle Bay.
"In the 1880s, the area was condemned as a slum area, being unfit for human habitation due to continued typhoid outbreaks and flooding.
"In 1905, the City Council acquired the powers to resume land for slum clearances. The first place in its sights was the low-lying area adjoining Wentworth Park, along the line of the old Blackwattle Creek, by now an open drain. The Athlone Place resumption took out over 400 houses and displaced 1,779 people. It was intended that housing would be replaced by factories, and that people were better off living in the suburbs.
"Sydney City Council resumed the area in 1905, subsequently clearing buildings, and filling and draining low
lying land. The scheme was devised by City Surveyor and resumption architect, Adrian Mountain. Hence the
name of Mountain Street.
"On 17 August 1908, by order of the City Council, Richardson and Wrench in association with Raine and Horne held an auction sale of 50 leaseholds of portions of the Athlone-Place Resumption Area comprising eleven blocks for 'Commercial, manufacturing and industrial uses'."
It would be more than a century before IGS became familiar with the site. IGS negotiated with the late Martin Biggs to lease 30-32 Bay Street, adjoining the Kelly Street campus. Following extensive remodelling, the Wright Building as it was renamed, was officially opened on 9 August 2001 by its namesake, former Principal David Wright.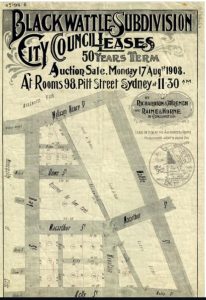 The current campus improvements, mostly internal, maintain the significant original and characteristic built form of the former warehouse.
Enormous trusses salvaged from the ceiling of the building to make way for new performance and teaching spaces are at least 110 years old, and had been set in place without glue or nails. Sections of the trusses, up to 40cm thick, are expected to be used in landscaping as campus improvements continue. 
Read more about IGS campus history. IGS is built on Gadigal land of the Eora nation.