The Owada International High School students Momona, Takuma, Akaya and Ikko, were warmly welcomed into the homes of their IGS hosts and their families for the past few weeks, and by students of all ages.
"The students visited many Japanese classes both in Primary and High School during their exchange program at IGS," Japanese Teacher Hammond Sensei said.
"Particularly students in Years 7 and 8 had wonderful opportunities to interview the visitors in Japanese about their 'food life' and 'school trip', comparing the students' lives in Japan to their experiences in Australia.
"IGS students of Japanese in Years 10, 11 and 12 also had great opportunities to practice their conversation, and they formed close friendships."
Visiting Year 1 IGS students learning Japanese, the Owada International students shared a variety of games and activities, such as as memory games, "Snap" and "Sugoroku", and spent time reading in small groups. The Year 1 class also asked our visitors a few questions using the expressions they have recently learnt.
"When they asked 'Nani ga suki desu ka?' (What do you like?) and discovered that Japanese students like the same things they do, they couldn't hide their excitement!" Assistant Head of Junior School Languages (Asian Languages) Machiko Sensei said.
"They loved having a big 'oniisan' (older brother) and 'oneesan' (older sister) in class, and found it hard to say 'sayonara' (goodbye) at the end of lesson."
Their visits to Year 5 provided a great opportunity for the IGS students to hone in on their current topic of focus, by introducing themselves and interviewing our visitors with questions using recently learnt phrases and vocabulary.
Machiko Sensei said they "obtained a lot of information" and were "astonished by how much they can communicate in Japanese".
When students encountered words that they did not understand, images were used to communicate, as well as maps, when discussing locations. Students found this strategy to be useful beyond the classroom, too.
"Their visits provided the students with a great opportunity to use their language in a meaningful and purposeful way, and it was such a valuable experience for our students," Machiko Sensei said. 
"I hope this experience allowed our students to realise how much they can communicate in Japanese, understand the purpose of language learning, build their confidence and motivate them further to learn Japanese."
Year 11 and 12 IGS students were delighted to spend time with Momona, Takuma, Akaya and Ikko in the Global Learning Centre, practising their conversational skills.
The new break out spaces and learning pods provided ample opportunity for IGS students to progress their speaking skills, and for furthering connections with their new friends.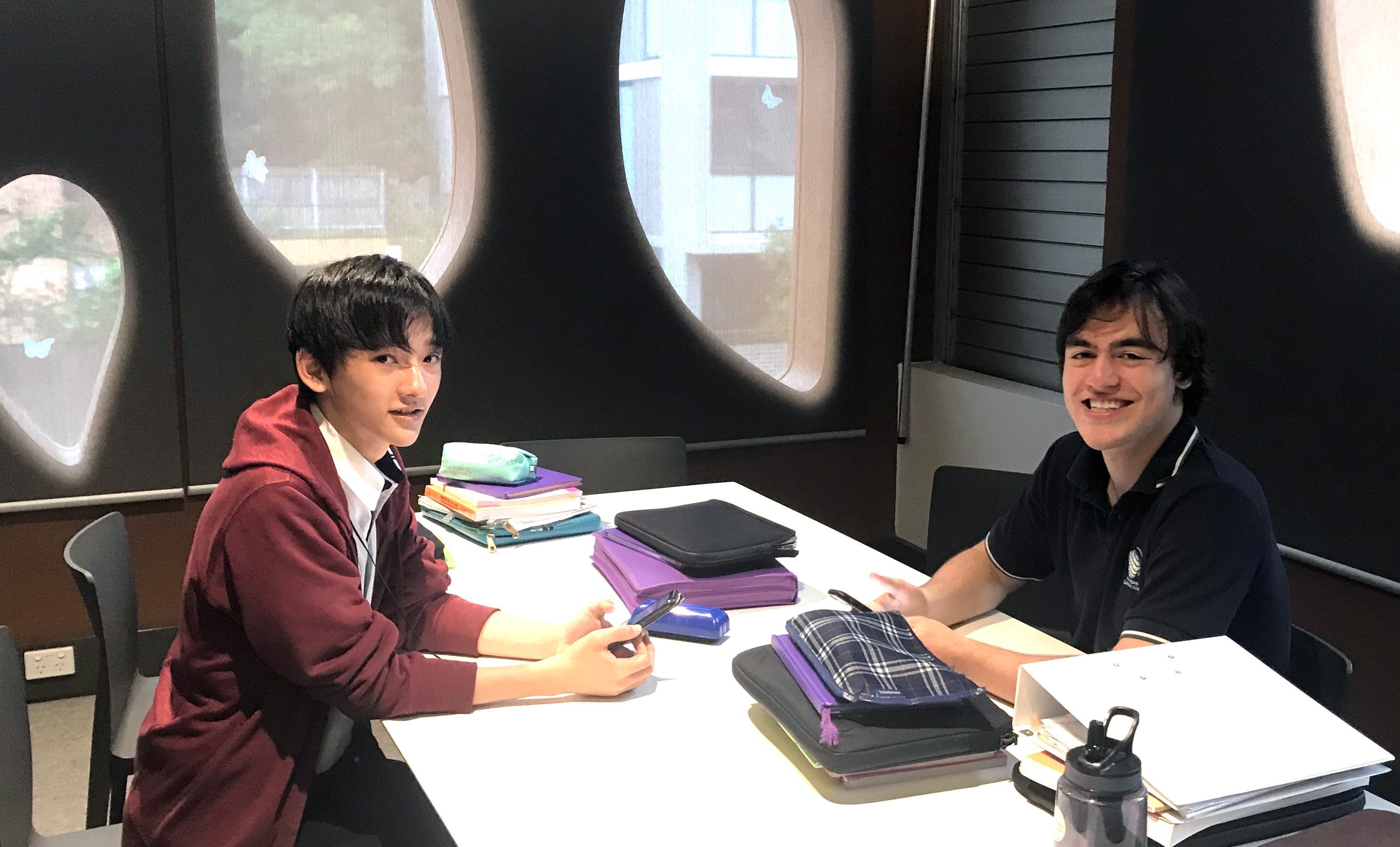 Year 8 students were also fortunate to work with the visitors during class time, extending their communication skills.
"Strong relationships have been formed in this exchange experience," IGS Director of Languages Rosalba Genua-Petrovic said. She thanked the students for "always joining in and having fun", and said she hopes to see them again at IGS. 
A farewell afternoon tea was held for the visiting students in the Tokyo room of the Global Learning Centre, offering the chance to reflect.
"Thank you for everything, see you again if we have the chance," Ikko said. 
Here are some of the students reflections of their visit to IGS:
私が日本からオーストリアにきて約3週間が経ちました。私は色々な貴重な体験をしました。オーストラリアと日本には様々な違いがあり、驚いたことがたくさんあります。
例えば、オーストラリアの人々はとても距離が近いです。日本より、男女問わず距離が近く、家族間でもまた距離感が近いです。
とても日常的に「愛してる」というセリフを耳にしました。私はびっくりしましたが、とてもいい文化だなと思いました。
そして、私の会った人たちはみんなとても親切でした。必ず笑顔で挨拶してくれて、嬉しかったです。
ここに来てよかったなと思いました。
About three weeks have passed since I came to Australia from Japan.
I experienced many precious things.
There are a lot of differences between Australia and Japan, so I have been surprised many times. For example, the sense of distance between people is more close than Japanese regardless of gender. And it's in family too.
I heard the sentence "l love you" on a daily basis. I was surprised but I thought it's so nice culture.
Then the people who l met in Sydney were very kind. I was happy because they said hello to me with their smile. I am glad came to here.
Momona Oka
オーストラリアでの生活
小山恵佳
オーストラリアで私はたくさんのことをしました。
私はハリエットという友達ができました。
彼女は私のホスト生で、初めの外国人の友達です。
彼女はとても優しくていい人なので私は彼女のことがとても好きです!
私はオーストラリアで誕生日を過ごしました。
誕生日の日、私は動物園に行きました。
私はコアラと写真を撮りました。
とても楽しかったです!
私はオペラハウスとハーバーブリッジに行きました。
とてもすごかったです!
私は日本語の授業にたくさん訪ねました。
彼らの日本語はとても素晴らしかったです!
私は彼らと日本語で話すことをとても楽しみました。
私はたくさんの人と会って話ができてとても嬉しかったです。
みんな私にとても優しくしてくれました。
私はたくさんの経験をしました。
たくさんの友達を作ったり、たくさんの人と話したり、たくさんの場所に行ったりしました。
これらの経験は私の大切な思い出です。
私はオーストラリアでの生活をとても楽しみました!
Life in Australia
In Australia, I did a lot of things.
I made friend, Harriet.
She's my host student and first foreign friend.
She is very kind and nice, so I like her very much!
I spent my birthday in Australia.
On my birthday, I went to the zoo.
I took a picture with koala.
It was so fun!
I went to the Opera House and Harbor Bridge.
It was so amazing!!
I visited the Japanese classes too.
Their Japanese was good!
I enjoyed speaking Japanese with them.
I was so glad to meet and speak many people.
Everyone is so kind to me.
I experienced a lot.
I made a lot of friends, speak to many people, went to a lot of places and so on.
There experiences are my important memory.
I enjoyed stay in Australia very much!
Ayaka Koyama
一度は見てみたかった観光名所をめぐり、とても楽しい日々を過ごすことができました。一方、語学面では、わからない状態が続いた時もあったが、3週間と言う短い期間を有意義に過ごすことができてよかったです。
I was able to spend a very fun day visiting the sights I wanted to see once. On the other hand, in terms of language, sometimes I didn't know what they were saying, but I was happy to spend three weeks meaningfully.
Takuma Matsukura
僕がオーストラリアにきて最初に驚いたことは、たくさんの容姿(肌色、顔つきなど)の人がいることでした。
日本には韓国人や、中国人はたくさんいますが、オーストラリアほどたくさんの国からの人
はいません。だからそれは僕にとってとても珍しいことで、僕は素晴らしいと思います。
また、僕は前から「日本語をどのように教えているか」がとても気になっていました。そのため、IGSの日本語の授業に参加して、一緒に勉強できて、とても楽しかったです。
オーストラリアの文化や、学校生活を日本の友達に伝えたいと思います。
3週間ありがとうございました。
The first surprise I came to Australia was that there were a lot of people (skin, face, etc).
There are many Koreans and Chinese in Japan, but not people from as many countries as Australia so that's very unusual for me and I think it's great.
Also, I have always been very interested in how teachers teach Japanese. Therefore, I was able to participate in IGS Japanese classes and study together, which was a lot of fun.
I would like to share Australian culture and school life with my friends in Japan.
Thank you for three weeks.
Ikko Namimoto