Inside the home of Jackson Antunes Kolln, Timothy Leftakis and Oliver Leonessa, for example, a games room, games arcade, indoor pool and fish tank embedded in the ceiling, visible from the living room, are complemented by a sheep pen, cow pen, chicken coop, pug pen, greenhouse with vegetables, and solar panels across the whole of their roof.
There's even a recycled water tank and compost bin.
"My sustainable home has many solar panels, to use energy we make," said Isabella Ninkovic. "We are not connected to the grid. We are using rainwater and all recycled materials. There is no plastic.
"I love how it has a library. I've always wanted something like that."
Delphine Labancz and Melody Li are planning a very modern house with sustainable features such as big windows to let the sunshine in.
"We are trying to use the land wisely," Melody said, pointing to a granny flat connected to the main house, so that some resources can be shared.
"We want to make it space wise, so it's not too crowded."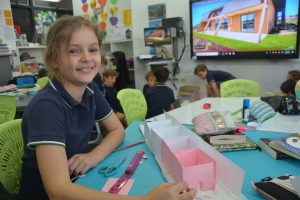 Harry Whitaker, Jakub Belunak, Isaac Salon and Frank Baldwin-Toby are planning to include battery storage in their garage so that power from sunny days can be saved for rainy days.
"We also have a rooftop garden, two water tanks, crops, two compost bins, cross air ventilation and a solar panel which will follow the sun to get more power," Jakub said.
The Year 4 classes have been enjoying informative visits from a range of parents, caregivers and their associates who are architects and passive solar and sustainability experts. The unit also builds on their learning from a recent excursion to Michael Mobbs sustainable terrace.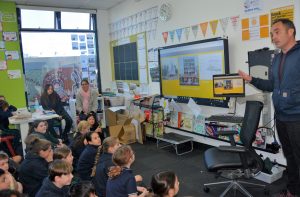 IGS thanks visiting architect Conrad Johnston, Enel sustainable energy specialists and other members of the IGS community who have contributed their time and expertise to help educate our students.