"It is vital that the students of IGS have access to a range of resources to assist them to become the best Digital Citizens they can be," said IGS Primary Digital Innovator, educator and eSafety Coordinator David Smith, describing the Digital Citizenship on the IGS education platform, CANVAS.
David has created a permanent course on CANVAS specially designed for students in the Junior School, with a course for High School students to follow.
"This online course allows students to interact with a variety of interactive games and videos that reinforce particular aspects on how to become a better Digital Citizen," David said.
The eSafety concepts include:
Not oversharing
Thinking before posting
Owning your own Digital Passport/Digital Licence
Avoiding cyberbullying and cyberbullies
Computer security-safe password usage
Copyright and personal use of information
Your Digital Footprint
How to protect yourself and others online.
Many of these resources have been sourced from Digital Citizen and Cybersafety sites such as the Office of the eSafety Commissioner and Common Sense Media.
The online course helps staff and students to:
Bring current digital citizenship practices into the classroom and at home
Manage their digital footprint and how this may affect them in later years
Discover ways to deal with cyberbullying and stop it in its tracks
Be digitally discerning in what information is authentic and reputable as opposed to false and misleading.
IGS will continue to address trends in Digital Citizenship education.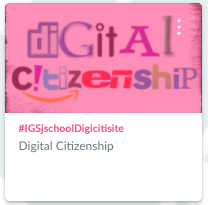 Digital Citizenship icon on IGS CANVAS