Language teachers are often asked "How do you teach grammar to young children?"
"One approach is to have them 'do' the grammar through games and hands on activities," said Assistant Head of Junior Languages (European Languages) Annamaria Ferragina.
"This term Year 1 Italian learnt about gender and articles by using cards with parts of words and colours," she said.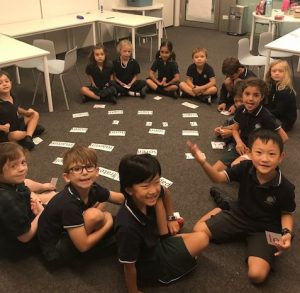 "The children put together the vocabulary like a puzzle, sounding out the vocabulary and matching the right colours to experiment with how language is constructed.
"The children also practised their team building skills by negotiating their pieces and working together to complete all the words.
"Initially, some children just worked individually but when they realised to complete all the words they had work as a group, they got the job done with plenty of house points and team cheer!"
In related news, Primary students of Italian in Years 4 to 6 enjoyed a host of hands-on activities at their language camp at Naamaroo Conference Centre, Chatswood, during Jumbunna Week.