The film, which explores how translations of the book have been used to help protect and teach indigenous languages around the world, was screened as part of the Sydney Film Festival.
After the screening the class met Kerttu Vuolab who was one of the actors in the film, and has translated The Little Prince into an Indigenous language, Sami.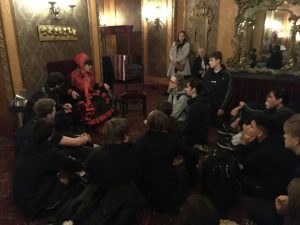 Kerttu told the students about her life as a writer and why she chose to translate it.
Teacher Ned Manning said IGS students asked "thoughtful, incisive questions".
"The excursion was a rare opportunity to talk to someone who was an integral part of a film screened at The Sydney Film Festival," he said. "We were the only school in attendance at the sold out screening."
Student Tilli Merten said the movie was made to celebrate the UN's Year of Indigenous Languages.
"It was a beautiful and very interesting documentary, and I think I speak for the entire class when I say that it was very enjoyable," Tilli said.
"The most special part of the excursion however, was when we got a private Q&A session with one of the translators involved in the making of the film, Kerttu Vuolab.
"Kerttu is a member of the Sami people, whose cultural group spans across four countries in North-West Europe.
"She talked to us about how important her linguistic heritage is to her, how and her career as an author and translator of literature has allowed her to connect her culture and mother.
"In all it was an excellent excursion and a great learning experience."