In Week 9 of Term 1, the IGS community participated in Earth Hour.
The school switched off the air conditioning of the main campus for a week in celebration of Earth Hour, which contributes to approximately 70 per cent of the School's energy use.
We are proud of IGS Sustainable Futures who produced the below video to inspire their peers and the wider community. 
To facilitate learning, teachers played the official video, below, in their tutor classes on Monday morning.
Teachers discussed with students what individuals and organisations can do for Earth Hour.
We also encouraged the School community to limit their electricity use in Week 9.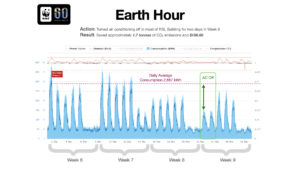 We thank our community and commend IGS students Lili Digweed of Year 12, and Nathan Turner and Roman Popal of Year 11 for their initiatives and efforts. They will be using the energy data in their Science and Geography Assessment Tasks.