"The Year 9 project investigated the consequences of teenage risk-taking behaviour, while the Year 8 project explored the acceptance of refugees in Australia," said IGS Director of Dramatic Arts Rita Morabito. 
"These collaborative projects challenged students to create and critically reflect on issues raised."
Year 8
Year 8 enjoyed a performance by Zeal Theatre, The Lucky Country, constructed in 2015 through a series of drama workshops with our very own IGS students.
When discussing the story of the play with Zeal Theatre's Stefo Nantsou and Tom Lycos, students explored what it means to be Australian, diversity, acceptance and difference.
Beyond the discussion, the students brought their knowledge, experience and ideas on these topics to their own physical theatre performances which were constructed on the day.
Year 8 were also fortunate to welcome international performance artist Matuse Peace back to the School for an incredible "Slam Poetry" session.
Students wrote poetry as a response to the issues and ideas which emerged from the plays, and presented these works to fellow classmates, a great confidence building exercise.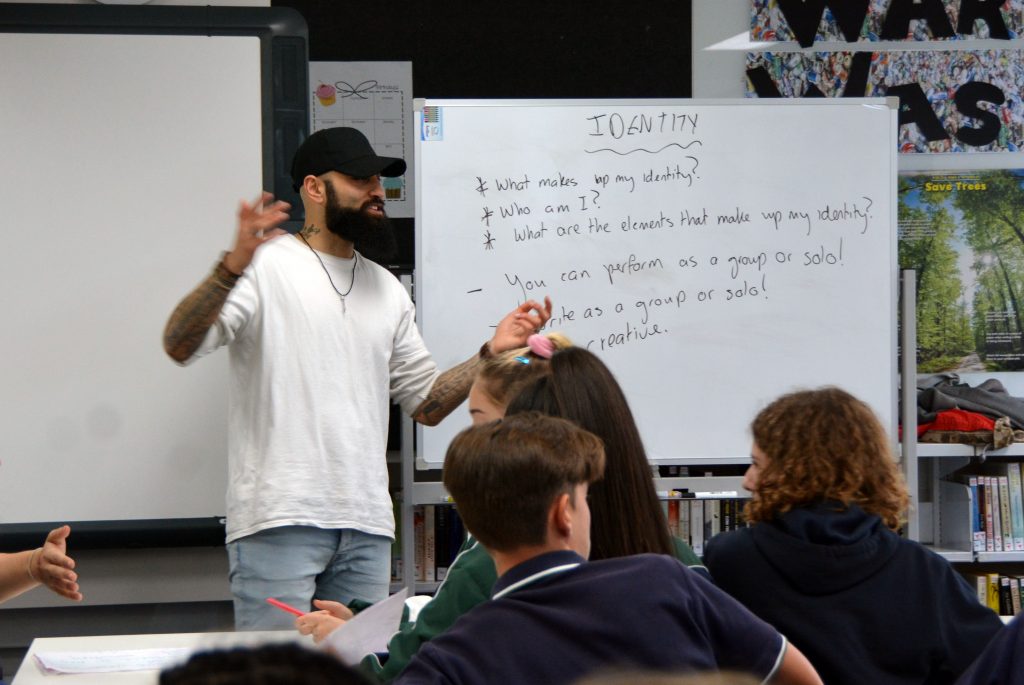 "Matuse held an amazing workshop for the Year 8 students exploring the theme of 'identity' as presented in the play The Lucky Country," said IGS Head of Library Services and Careers Adviser Glynis Martin. 
"The students thoroughly enjoyed writing poetry and presenting their work as a rap."
Identitiy
It's one of your necessities
It includes your personality
It influences your ideologies
It makes us who we want to be
Together we form a community
Then there are endless possibilities
With unity in diversity
By Pranav and Hugo
Year 9
The Year 9 workshop began with a performance of The Stones, also run by Zeal Theatre, based on a true story about two young boys who found themselves in trouble and had to face the consequences.
The production was written and performed by Stefo and Tom, who took on the role of the two boys and performed their story as a piece of educational theatre.
"This was such an engaging piece of theatre that not only included the audience in the action through direct address, but connected to us through the actors' portrayals of teenagers our age," said Catherine of Year 9.
"It was thought-provoking as situations such as this not only happen often, but could happen to us, and Zeal Theatre made it both engaging to watch and educational."
Students then took part in discussion forums, where the actors revealed further insight into how the story was researched and constructed.
"Zeal Theatre productions are always outstanding and this one was no different," said Chiara of Year 9. "The Stones was an immersive composition beholding the idea of action and consequence, and the focus of the play was youth crime."
"We also listened to a presentation from NSW Police Education Officers about taking care of ourselves.
"Overall it was a stimulating and riveting day."
After the discussion forum, students separated into groups for their own production-building activities.