Staff, students, and parents recently celebrated the achievements of the IGS Year 12 Visual Art, Design and Technology students and considered the deep themes expressed.
More than 350 pieces of work went on display in the School Hall, before going off to a marking centre, along with works by more than 8,600 other students.
"As we've seen, a lot of the work certainly captures attention. It shows the work and engagement with both ideas and also techniques. And this doesn't come through from the natural talent solely of the student, it also comes from the hard work of the teachers," Mr Malyon said, congratulating his colleagues.
He noted the student's exceptional work and wished them the best of luck with their upcoming written examination.
"You have done exceptionally well now, really enjoy this moment," he said.
Anna Sofia Petrovic

Anna's project "CIRCUIT_GRL" explores the blurry divide between the physical and the online self in our computer age.
"The digital screens of my body of work tell the story of the 'CIRCUIT_GRL', who uses an online platform to explore the (almost) limitless possibilities of this space," Anna said.
"I was looking at how identities are formed in the new digital age and I was interested in this new online self and what are the boundaries between ourselves and the online self.
"I wanted to do something that was relevant to people my age, people could relate to it and I wanted something new and forward-thinking."
Anna thanked her teachers for helping her visualise her project.
Anika Campbell
Anika said she has always felt a deep connection with nature and the natural world, which is what inspired her major art project.
"I have always found this ethereal beauty within the sky and the ocean, and my work is just a celebration of that," she said.
Emma Hayman
Emma explored the combination of traditional Asia with contemporary culture to comment on the constant change and loss within traditions. 
Emma used etching and printmaking with a gold leafing feature to represent the immense vibrancy and value of rich cultures and customs.
"The etchings are made up from different components, all of which communicate representative factors of current and past scenes in specific countries such as China, Thailand, Nepal and Japan," Emma said.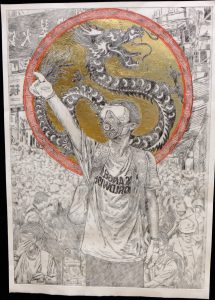 "Consumerism, protests and other globalisation influences are continuously impacting these countries, resulting in a shift in their culture-filled society."
Christina Vlotis
"My piece of work is inspired by my grandfather Paul because he means a lot to me and he looked after me through a lot of my childhood," Christina said.
Christina thanked Mr Malyon for helping her shape her ideas by "showing the different aspects of my grandfather's life, showing his past and his hobbies".

"Accompanied with a sense of nostalgia and a bittersweet longing to relive childhood memories, in my body of work I've depicted a series of emotionally driven photographs emulating meaningful memories of my grandfather," Christina said.
Christina showcased her grandfather's passion for gardening and the connection with his family and his spirituality.
"Being privileged enough to have an amazing grandfather in my life, I want to illuminate the powerful story of a special man and continue his legacy through my body of work."
Paul said he was "very proud" and said, "she knows what she's doing".
Geordie Rothwell


Geordie's project portrays images of an imagined future world.
His two canvases depict a bleak future life in off-world colonies where climate change has made an effect, where globalisation has transformed society, and people seeking asylum are being hounded.
"The scale of the works is intended to give an atmosphere of isolation, exile, and loneliness, The future is a dark, selfish, toxic place."
Sage Tibbetts
Sage's major work explores anxiety.
"The photos represent the different ways in which anxiety manifests; inability to breathe, insomnia, lack of self-care and isolation," Sage said.
Ruby Goold
Ruby's work playfully illuminates a series of deceptions, using found paper, images and her own illustrations.
"My intent is to provoke thought about these domestic narratives," Ruby said. "What disguises do we wear, and why do we assume these disguises?"
Andrea Kostopoulos
Andrea's seven pictures challenge the social norms of the 1950s and 1960s, focusing in on a nuclear relationship, a couple who have been ostracised by society.
Jeanie Rothwell
Jeanie's work was inspired by the issues of obsessive perfectionism and female identity within the ballet world.
"By combining the intricacy and depth of colour produced by oil paint with intentional destruction, my work aims to unpack the constructs of ballet that are mirrored in modern society," she said.
Molly Gardiner
Molly's work explores the detrimental loss of the honey bee and the way in which the loss of these organisms can affect global biophysical processes. 
"My work uses embossing, etching and laser cutting, layered, to mock the appearance of these creatures," she said.
Zachary Martin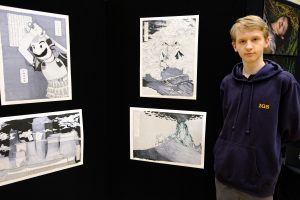 "My artwork brings together two of the major influences in my life, gaming and Japanese art," Zachary said.
"By using well-known icons from both genres, the casual observer will be able to understand what the key elements of the artwork are without in-depth knowledge of their histories or cultures."
Hannah Armstrong
Hannah examined the traditional ideals of feminine beauty by incorporating photography and Lino printing.
"The subject of my work and close friend Ana Sofia, is presented as vulnerable, diverting her gaze from the spectator's. Yet the harsh lines of lino-cutting seem to rip at her skin, figuratively stripping her bare for audiences' scrutinising eyes," Hannah said.
"My middle piece reveals what lies beneath this anxiety of exposure; the desire to face the audience head on."