This year has been such a remarkable year for IGS, rich with student and staff achievements, celebratory events, exciting campus developments and a wonderful sense of community weaving throughout our School.
There's been a rhythm of positive energy throughout the week as we wrap up yet another enormous academic year.
The Early Learning concert is always a joyous occasion to finish the academic year. It is uplifting to see how much our youngest learners have grown in one year, and how they sing in various languages for an audience of their loved ones.
It is such a joy to watch our students shine. At the Kindergarten to Year 2 Speech Day, we commended them on their hard work and dedication to learning throughout the year. It was a pleasure to shake the hand of each Year 2 student who will now move on to the next stage of their Primary school years.
As I said to students, parents and caregivers at this event, our teachers hold the key. We are so fortunate that our teachers love what they do, are highly skilled, and create such a warm, safe and supportive environment in which our children can learn and grow.
In 2018 we've continued to shower our young learners with attention, patience, praise and encouragement for their efforts and for being who they are. And as a result they are flourishing. It's a pretty simple formula.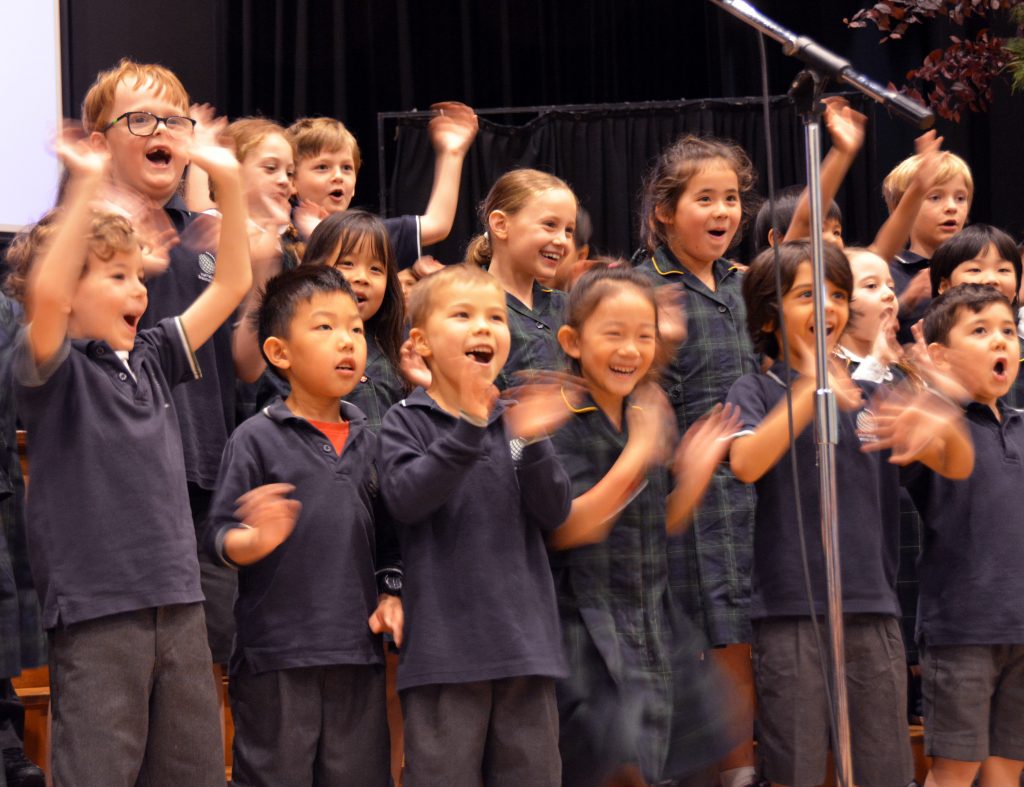 What has warmed my heart day by day here at the School is that these children feel such a strong sense of belonging to the IGS community. Each child made important leaps and bounds in their reading, writing, mathematics and language learning as well as their critical and creative thinking and their physical and emotional development.
Every year at the Year 6 Farewell Assembly, I share a story of a brave character from literature or from life, as the journey from Year 6 to Year 7 takes courage, which all students have inside of them.
This year, I told a true story about a boy named Leonard Gwyther who lived in a tiny farming town in Victoria called Leongatha early last century. Because Leonard lived on a farm, he worked very, very hard. From the age of five, he rode his horse to school 10kms a day. He was a curious boy with an engineering spirit, who built lots of things, including a washing machine for his mum. At the age of nine, Leonard had to take over the family farm after his father broke his leg, so he began to work and plough a 24 acre field all on his own.
Enthralled by the story of one of the biggest engineering projects in Australian history at the time, the Sydney Harbour Bridge, Leonard journeyed from country Victoria to Sydney with his horse Ginger Mick, riding 30kms a day for 33 days, to see the official opening of the bridge.
Leonard overcame many obstacles along the journey, and by the time he got to Canberra, he was becoming a real celebrity. He even visited Parliament House for tea with Prime Minister of the time, Joseph Lyons. When Leonard reached Martin Place in Sydney, 2,000 people turned up, wanting to meet him and get his autograph, but he wasn't really interested in all the attention.
Finally, he rode down George Street and there in the distance before his very eyes was the enormous structure he'd dreamed of. For a boy with an engineering spirit back in 1932, it was an extraordinary vision.
When Leonard grew up he never spoke about the journey. This was his one great adventure in life and he was just happy that he did what he set out to do when he was just a boy, but in Leongatha they made a statue in his honour.
I shared this story with Year 6 because, although we live in a very different time, Leonard's qualities are timeless. He worked hard. He cared about his family. He looked after his best friend, Ginger Mick. He was courageous. He was organised. He set a goal, made a plan and set off. He rested along the way. He was independent, but he was confident enough to ask for help and when he asked, he found that everybody was there for him. He didn't get distracted by all the attention. He didn't give up. He just kept going.
We all have our journeys to take. The journeys of our Year 6 students won't be quite like Leonard's, but they are going to have their own wonderful adventures. I hope Year 6 go into High School knowing that it will be filled with excitement, new learning and people there to help and guide them.
For our High School students in the Middle Years, we are still reminiscing on how they were challenged and inspired by the project based learning (PBL) of our recent SAGE week. The SAGE program continues to develop, as we find new ways to excite learning in our students beyond the classroom. Congratulations to all of our students who have expressed their expanding skills and understanding in countless ways.
Year 11 are rising to the challenge of their senior studies, and have come together as a very compassionate year group. I look forward to seeing their leadership skills shine in 2019.
Year 12 have conquered the Higher School Certificate (HSC) and I applaud them on their perseverance and support of one another in their final year. We enjoyed celebrating some of their achievements and efforts in Term 3, and look forward to welcoming them back for Speech Night on Monday 3 December to farewell them one last time before they truly go out into the world.
Senior students will soon take flight to France, Italy, Spain and Germany for their language exchange programs with enthusiasm and an eagerness to immerse themselves in various cultures. What a journey these students are embarking on and how inspiring it is to envision the beneficial impact that these experiences will have on their language skills, not to mention their growing individuality.
I am incredibly proud of all IGS students. They are a diverse group of children and young men and women, all at different stages of development, progressing beautifully here at IGS under the expert care of their teachers.
In February 2019, we will move into the Global Learning Centre for the Teaching and Learning of Languages, and next year we will construct the Bibliothèque, a two-story library in the heart of our school. It will have an amphitheatre, a research centre, outdoor balcony, video wall, conservatory, reading pond, reading cave, learning spaces and study booths.
I hope all of our students spend time with their family and friends these holidays, go out and enjoy nature, and spend some time discovering new books and revisiting some of their old favourites.
To all of our families, thank you for your warm support of our School. I look forward to joining our community at Speech Night at the State Theatre and during Picnic Day at Clifton Gardens. I hope that parents and caregivers also have the chance to take a break over the coming weeks, and spend time with your children and celebrate their achievements.
I wish everyone a joyful holiday, and am excited to see students return for our first full day of the 2019 academic year on Wednesday 31 January.
Shauna Colnan
Principal