In keeping with the School's strategic area of action to reimagine and redesign the IGS campus, construction of the new IGS Centre for the Dramatic Arts (CDA) begins in November 2019. Construction of the new IGS Bibliothèque will begin on Picnic Day in December. The CDA is expected to open in Semester 1 2020 and the Bibliothèque in Semester 2 2020.
The works that are set to make the most noise will take place before and after school and during school holidays, with building hours 7am to 6pm six days a week.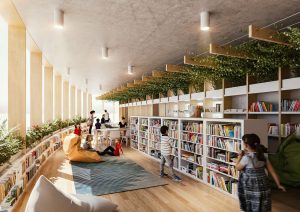 During construction, library resources will be relocated to Primary School classrooms, with literature and research materials made available to IGS teachers and students for classroom use. A wide range of electronic resources will continue to be accessed by students in Years 4 to 12 via the collection on Canvas and through the student dashboard.
While construction is underway, we encourage families to join their local libraries and the State Library New South Wales which recently opened a new children's section.
We look forward to providing you with regular updates about these exciting new projects which are set to transform teaching and learning at IGS.