"One of my all-time favourite picture books is Oscar's Half Birthday written and illustrated by Bob Graham," Patrice said.
"On the surface, Oscar's Half Birthday is just a simple story about a small family going on an urban outing. It's not full of action, adventure and excitement, but it is this simplicity that is at the heart of why I love it.
"In affectionately telling the story of an everyday family doing everyday things, Bob Graham reminds us to take joy in small, simple things and to celebrate them.
"Given the situation we find ourselves at the moment with the pandemic, confined to our homes and often away from our loved ones, I think this is an important lesson to be reminded of."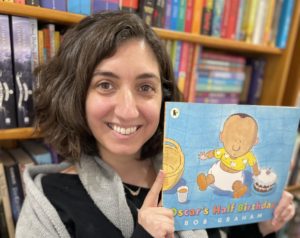 Each week we will share your favourite books with the IGS community. Students can email lauram@igssyd.nsw.edu.au with a photo of them reading their book, a review of their book or an explanation of why they enjoy reading the nominated book.