The Art Prize exhibition features the diverse talents of the country's young, aspiring and emerging artists and offers them the opportunity to exhibit their work in a public art gallery.
Young artists aged between 12 to 21 submit artworks in a variety of media including: painting, sculpture, drawing, printmaking, video, photography and ceramics to win cash prizes, scholarships and art materials.
 
Francesca's entry Homeless is beautiful and haunting work, which originally formed part of a larger series exploring local urban environments. 
"I believe the image Homeless explores a number of important social and environmental themes, such as: reuse, recycling and repurposing," she said.
Francesca said she hopes her work will urge people to question their attitude to the "circular economy displacement, neglect and homelessness in our cities – and ownership, possession and dispossession of our urban environment"
Francesca has been shortlisted among a selection of Sydney's finest young artists.
"I have been interested in photography since early Primary School, however have been more actively experimenting with my photography since I got a smartphone when I was 10," Francesca said.
"I then took the opportunity to translate my smartphone photography to more serious camera equipment a couple of years later, in around Year 7 or 8.
"Starting this way means that my photographic technique, even on a 'proper' camera, is that I tend to experiment with fixed focal lengths and no zoom. This forces me to focus on the composition of my shots much more. It's something I love to do."
Her image Homeless and the other photos in the series resulted from her study of and foraging for unwanted furniture and homewares in February 2021.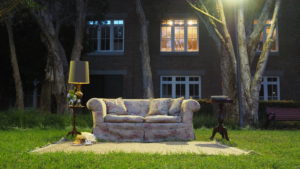 "For my study on the Visual Culture of the City, I paid close attention to the discarded furniture and homewares that pepper the streets I travel on my walks. I took photos and in particular, debated the provenance of these items. Some were clearly broken, whether it was because they were loved or unloved wasn't always clear; however many were intact but no longer wanted," she said.
"My process involved researching 'before the beginning'. Could I find furniture and claim it before it was discarded? What can I learn about its origin? I searched social media groups, replied to advertisements, sifted through deceased estates. Pieces needed to be free to a good home.
"I selected some favoured items; two couches, some side tables, a lamp, a rug, some Fine China and some books.
"My installation involved placing the foraged items to create a scene. I was looking to create a 'room' outside, in the inner city. Most of all I was celebrating the foraged items by bringing them together, composed and arranged neatly, as if in someone's lounge room. This sourcing process, curation and placement, is at odds with the ephemeral discards we often see on street corners."
Francesca said she is pleased to be shortlisted in the exhibition for the 2021 Mosman Youth Art Prize.
"It gives me an opportunity to understand other people's art practice, the issues they are exploring and the processes they follow. I think this will provide new sources of inspiration and help to strengthen my own artist practice," she said.
Francesca said photography will always be an important part of her creative expression.
For more information about the exhibition, click here.