Chinese Language Educators Laura Xu and Lingzi Zhao coordinated the Chinese New Year celebrations.
The children particularly enjoyed taking turns dressing up as a dragon and dancing to the beat of a drum.
"In addition to our experiences celebrating Chinese culture in the Centre, we have enjoyed families sharing photos of their own celebrations of the Lunar New Year," Head of School Early Learning Sarah Herbert said.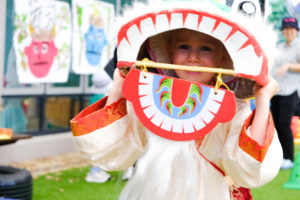 "The Early Learning Centre has families of many backgrounds and cultures including Chinese, Malaysian and Vietnamese heritage. Families have shared their process of cleaning the house and New Year shopping. Some of our families also decorate their home with New Year decorations.
"On Lunar New Year eve some of our Early Learning children will enjoy a special family reunion dinner at home, with everyone gathered together. Special clothing may be worn, including traditional dress in bright colours. Some of our children will also visit relatives and friends on the first day of the Lunar New Year.
"Gong hei fatt choy to all in our IGS community celebrating the Lunar New Year."