"I was really shocked when I found out I had won an award because I didn't think I was that good," Ava said. 
Ava won the award for her poem, A New Year Begins, which she said is about a "Chinese Dragon Dance".
WriteOn is an annual writing competition open to all NSW Primary School students in from Year 1 to Year 6.
The competition provides Primary School students with the opportunity to become published authors.
This year, students composed an imaginative text up to 500 words in length in response to the photograph below: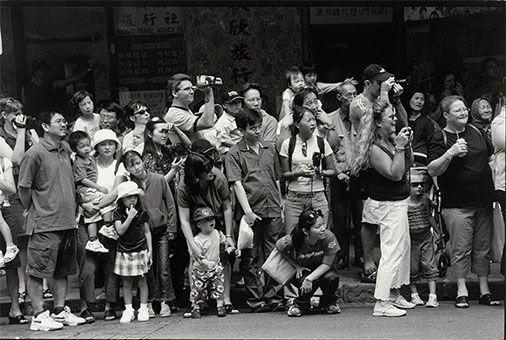 Chinese New Year and Anti-War protesters, 2003 / photographed by Wendy McDougall
Although modest about her talents and recent success, Ava said she "loves to write".
"Sometimes I like to write stories about fantasy and mysteries, but I don't mind writing about anything really," she said. 
Congratulations to Ava and we look forward to seeing more of her works come to light at IGS. 
Ava's winning entry:
A New Year Begins –  A Poem by Ava Ertle
Why I love to write Poems
I love rhyming words which means I should probably like poems? Well I love poems, I mean what's there not to like? There are lots of different types of poems like rhyming couplets, an acrostic poem, a haiku poem and a couplet. Here are some poems I have written for you. I hope you enjoy them.     
A busy street
Crowds fill the pavements 
Drums rumbling in the heat
Flashing red and glittering adornment
      
BANG, BOOM, ROAR 
A huge golden head comes into view
Shopkeepers look out their door
Tambourines start to jangle on cue
The lion draws near
Excitement hums
Cymbals clash, a baby sheds a tear
Closer and closer he comes 
Moving faster and faster
Young and old cheer in delight
Majestic lion – bringing good fortune to his master
He rears with all his might
A red envelope – the lion takes his reward
The dance has run its course
CAMERAS CLICK, The crowd applaud
Welcome to the year of the horse