As we continue our HSC advice series, Benjamin's advice to the Class of 2021 is to focus on yourself, remove your phone from your work space, make time to relax and unwind, and to call on your teachers for support.
"I found the best way to deal with it was to focus on myself," Benjamin said.
"If that meant not looking at the constant flow of COVID related news updates or not checking my phone to see what my mates reactions were to news, then that was just what I was going to have to do," he said.
"I think that really benefited me, being disconnected from that constant circus. That was also the other major difference, as we were at home, I had my phone with me or next to me on my desk all day. I made the decision to just turn it off and put it away to limit my distractions during work hours."
Benjamin recalled a conversation he had with his then mentor, former PDHPE staff member Brian Downton.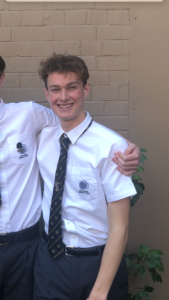 "Before the pandemic started, in Year 11, we had discussed the main challenges that I would face in Year 12 and we agreed they could be condensed into three categories. Study, Sport and Social (the three Ses). Out of these, one was always going to suffer more than the other two, and I'd have to make a sacrifice," he said.
"One of the 'benefits' of the pandemic is that it creates a situation where the social is already decided for you. In a cruel way, the world has helped you in your choice of sacrifice and you can focus on study and sport. So my advice would be that if you haven't necessarily started as strong as you would have liked with internal assessments, like I did for some subjects, put your head down now and really go for it."
Prior to trials, Benjamin said he wrote himself a letter.
"In the letter I asked myself a wide spread of questions relating to everything from school results, sport results and overall level of happiness. I sealed the letter and gave it to my Mum to give back to me the day after my ATAR results. This subconsciously really helped me. I feel as if I knew that I did not want to see 13 years of work go to waste and not do what I deemed as 'well' in my final exam.
"The day I opened the letter, I had forgotten I'd written it but when Mum gave it to me, I was so proud of my own self achievement and for seeing it through."
For those students who have some free periods, Benjamin said to take some of that time for yourself to unwind and relax.
"Exercise or even extra sleep in the mornings can benefit you," he said.
"That's probably my biggest piece of advice I can give. Mental health is so important and for me. I found no better way to maintain my mental health than by exercising, eating well, sleeping well and disconnecting from online as much as I could.
"I read notes while walking in the park which I liked to do occasionally for something different. Keeping my sport and training up was really crucial to helping me manage my study load and mental health."
Benjamin said he enjoyed Zoom calls and virtual games night with friends.
"We did a Zoom quiz together to test our knowledge of key syllabus areas. This was a nice way to do it as you got to ask questions yourself as well as hear new questions you hadn't before from a friend," he said.
"You know you better than anyone so just trust yourself and back yourself to deliver on whatever it is that you want. And of course, don't be afraid to lean on your teachers. Even if it's not for actual learning reasons. If you need a chat or feel a little overwhelmed by it all, they will help you.
"Developing those relationships throughout High School will come in handy now at the end. Also don't be afraid to lean on my year group. We did online as well so we know a few things which can help you get through it and I know we're all happy to help you out in any way.
"I guess finally I would just say enjoy what's left. Some of you may read that with a pinch of salt but try to stay positive. It's very easy to let the whole weight of your situation crush you and your spirit.
"You're in a very unique situation which is a bit different to what our year went through so try and enjoy all the little things IGS does give you, cause you'll miss them when you leave.
"I'm also working as a football coach for Sydney Uni SAP (football/soccer); trying to keep busy and stay healthy as I figure out what I'm doing with myself hahaha. But yeah so far so good. No major news to report just yet but big things on the way."
We warmly thank Benjamin for sharing his experience as we all add our best wishes to the IGS Class of 2021!