Students raised fresh perspectives on our National Anthem and Australia Day, preserving "lost" languages, suicide statistics, Aboriginal people and the criminal justice system, the "outstanding impact Indigenous people have had on screen culture in Australia" and much more.
The finely-worked, woven baskets of Ivy Jones-Evans, a bush tucker cookbook by Lily Ballard-Shires and a children's story book by Emma Hayman, The Lost Yarramundi, retelling Australia's Aboriginal past and effects of invasion, were on show, along with detailed journals in which students shared their learning.
Academic Mentor for Indigenous Students and Stage 6 Aboriginal Studies Teacher Jade Carr said she was impressed with the depth of knowledge gained and the way students had chosen to present their "two terms of hard work", which included consulting with Aboriginal people.
"They should really be pleased with their efforts," Jade said.
IGS Principal Shauna Colnan said she loved the fact that the School community was also "on a learning journey" about Aboriginal languages and culture.
"You've done what you wanted to do and you are inspiring everyone."
Abby Mahemoff examined mental health statistics in Aboriginal communities and outlined reasons for them, along with government and community responses, and suggested solutions.
"I interviewed six Aboriginal people, attended a workshop, participated in a healing circle and spent a day doing cultural activities," Abby said.
"It was really good to see how the power of culture can change mental health problems.
"Not enough is being done, and the government is not taking the issue seriously enough.
"There are reports that have investigated the issues. There's a lot of distrust."
Abby urged a greater understanding of the gravity of the situation, and greater consultation with Aboriginal communities by the government, particularly when culling services in a particular area.
"There must be culturally appropriate services that can help to heal the past."
Max Rodie investigated two local pathways into higher education for Aboriginal people, including Tranby National Indigenous Adult Education and Training in Glebe, and Jumbunna Institute for Indigenous Education and Research within UTS.
"Jumbunna helps Aboriginal people to enter tertiary education and currently caters for about 350 students aged from 17 to their 70s who are offered additional mentoring and tutoring," Max said.
Max said he learnt that cultural responsibilities meant that many students were required to leave their studies for up to six weeks at a time, following the death of a relative.
"It takes time, respect and learning, both ways," Max said.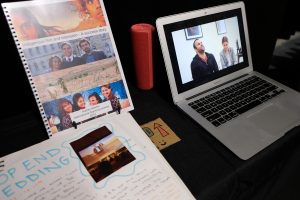 Saskia Hillard investigated effects of fracking on remote communities of the Northern Territory, with assistance from Lock the Gate and Protect NT political activists.
"A lot of people I know don't know about it," Saskia said. "Last year, the Northern Territory Government lifted its moratorium on fracking."
Saskia said she felt the remote communities were being "completely disregarded" and had no way of opposing the decision to frack, even though their water supplies were under threat.
"Many Aboriginal communities are being misinformed on how this will impact their land. Fracking will poison ground water, affect natural waterways and ecosystems, impact health and kill country and culture.
"My project is an awareness campaign to inform the public of what fracking is and how it will affect Indigenous communities."
She created detailed logbooks and a video which she plans to share with the organisations which assisted her, to help promote awareness of the issue.
"Through the video, I was able to compress so much of what is happening. It's a really good way of getting the message across."